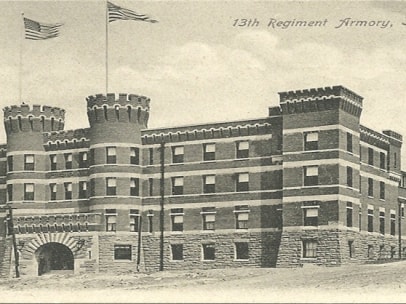 Scranton Armory, 1897, Scranton, Pennsylvania
When Slonem first heard about the Scranton Armory, he was not thinking of adding it to his collection—it was a largely vacant space he rented in between moving studios in New York. But when he stepped inside this massive Romanesque Revival structure, he found an opportunity to preserve a crucial piece of American history: five presidents have stood at the armory's drill hall, delivering campaign speeches to local voters.
The property is equipped with a unique series of underground tunnels and original swimming pool, and Slonem has since furnished the armory's plentiful rooms with period furniture, new artworks and refurbished chandeliers.